Unleashing Boho Chic: Festival Hair Trends in 2023
04.08.2023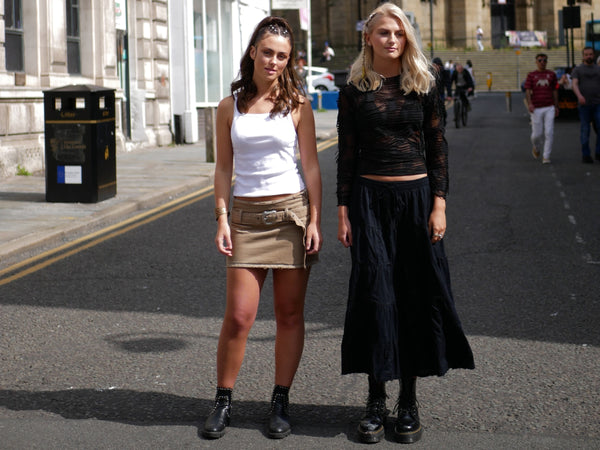 Festival Hair Trends in 2023
Festivals are all about letting loose, having fun, and expressing yourself. From clothing to makeup, everything is about bringing out the inner fashionista in you. But one aspect that has always been a crowd favourite and a highlight of any festival is the hair. Every year, new trends emerge, and 2023 is no exception. In this article, we turn to two of our Stylists, Chloe and Alice from our Graduates salon, to look at some of the most popular festival hair trends that will be making waves this year.
The Undone Look with Movement and Texture
According to Chloe, one of the most popular festival hair styles this year is the undone look with lots of movement and texture. This look is all about making your hair look effortless yet chic. Natural blondes are in high demand, with clients wanting warmer, buttery, and golden tones. The key to achieving this look is to create messy waves that make the blonde pieces pop. This look is perfect for a boho vibe and goes well with any festival outfit.
Braids, the Perfect Festival Hair
Braids have always been a favourite at festivals, and it's easy to see why. They are long-lasting, and you can create endless styles with them. Ava's hairstyle is a perfect example of how braids can elevate your festival look. First, Chloe created messy waves to add depth to the colour while emphasizing the lighter blonde pieces around her face. The best hair spray to use to retain definition and movement, is one that has light hold and is flexible.
The braid takes the hair away from one side, which is both flattering and practical. To add more flair to the look, a gold thread was interwoven with the braid and then over-wrapped and secured at the end. Braids are perfect for festivals as they are low maintenance, and you can experiment with different styles.
Festival Hair Accessories to Highlight Details
Alice loves seeing hairstyles at festivals that make a strong impact. However, it's crucial that the hairstyle is easy to wear and will last the entire festival. Accessorizing is a great way to add more details to your hair and elevate your overall look. For example, Lorena has luxurious long, medium-thick hair, and Alice created a voluminous shape by placing two ponytails on top of each other and backcombed to create fullness. The ponytail can be transformed into a bun, and fine baby hair was sculpted into laid edges around the hairline to complement the rest of the look. Silver braid cuffs add detail and interest and perfectly contrasts with darker hair – find other option for hair jewellery here.
How to Use Dry Shampoo
Starting at the nape, and working towards the top of the head, take medium to large sections of hair and spray Collinge & Co Invisible Dry Shampoo into the hair. Apply from 20cm and evenly distribute from roots to ends. Invisible Dry Shampoo Is perfect for all types and will not leave an unsightly residue on darker hair. Remember to regularly shake the can when using this product.
In conclusion, festivals are all about having fun and expressing yourself, and your hair is no exception. This year, the trend is all about effortless yet chic hairstyles with lots of movement and texture. Natural blondes, braids, and accessorising are some of the most popular trends this year. So, let your hair down, experiment with different styles, and have fun at your next festival. 
Festival Hair Ideas
Check out our favourite hair and fashion looks that have inspired us this festival season from Coachella  Festival to Creamfields... the looks that looked cool and captured the vibe perfectly.
Related Articles
Meet the Collinge & Co Graduates Team

Step into the exciting world of our Graduates salon. With a new generation of Graduate Stylists, newly qualified hairdressers and experienced team, our Bold Street location is brimming with energy and passion. You'll be welcomed by a mix of professionalism and... Read More

Low Chignon Bridal Hair Inspiration

A low chignon. An exquisitely crafted and detail soft bun that sits softly into the nape of the neck. Twisted ponytails are skilfully arranged to form a bun, creating extra volume. Adorned with gypsophila to finish.

Read More

Top Tips for Beautiful Bridal Hair

You aspire for healthy, shiny lustrous hair on your wedding day, so follow our top tips to get your hair into fabulous condition.

Our motto is to be kind your hair which includes a list of good things to do... Read More