How should I wash my hair?
20.11.2023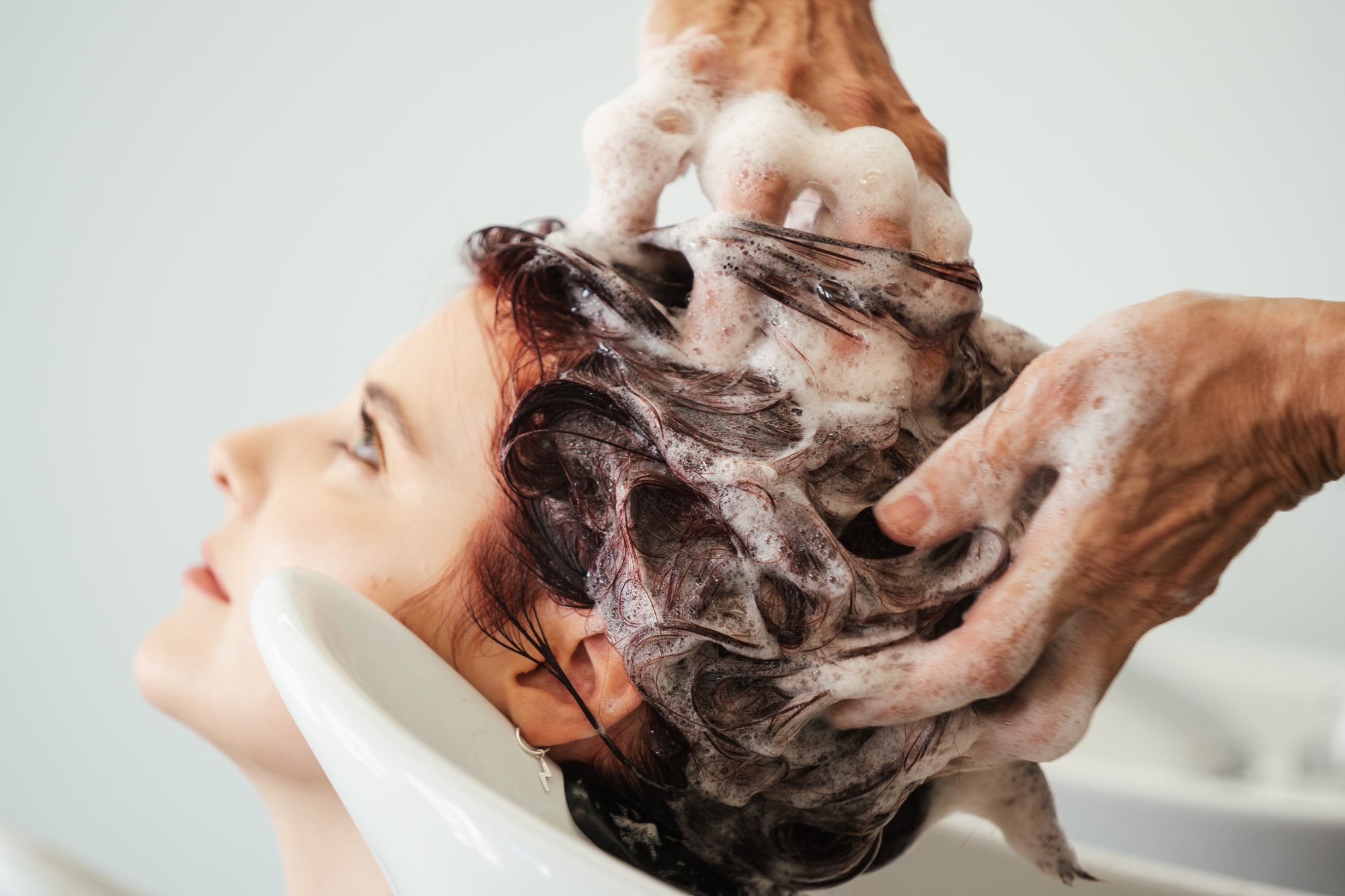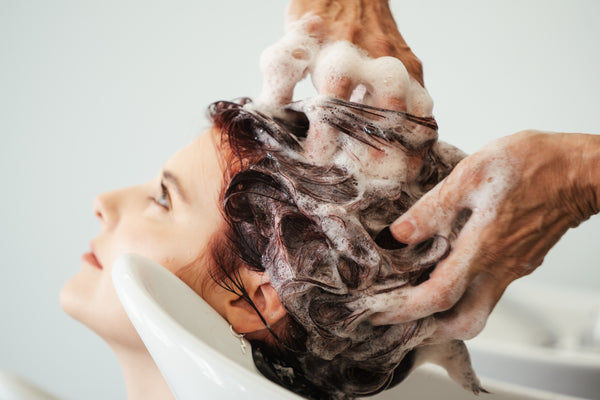 How often should you wash your hair?
We are constantly bombarded with advice from various experts on how frequently we should shampoo our hair, which can be very confusing. In our opinion, there isn't a definitive answer. It all depends on your hair type, the environment, sebum production, and, of course, personal preference.
The frequency of washing will also depend on the products you use. Shampoos can be formulated with harsh detergents that are excellent at removing oil but can also strip the hair, leaving it dry and dull. When we developed the Collinge & Co wash and care range, we had one clear goal in mind: we wanted the range to be gentle and kind to the hair. This meant researching the right cleansers and ingredients to protect and restore the hair to a healthy condition.
Therefore, if you choose the right products, it is perfectly fine to wash your hair every day.
If you have dry hair, you might prefer to wait longer between washes. You might wonder, is this okay? Well, in this instance, it depends on your lifestyle and surroundings. Your hair may still appear clean after five days, but if it has been exposed to city pollution, if you ride a bike, or play a sport, in reality, it can accumulate grime made up of tiny smoke particles and residues. If you occasionally go a week without shampooing, you run the risk of clogged follicles, which disrupt the production of natural sebum and a healthy scalp. This can lead to flakiness, itching, sensitivity, and, in extreme cases, dandruff and hair loss. In summary, a good routine should range from daily washing to washing every four days, depending on your hair type, lifestyle, and environment.
Q & A
Q: I like to wash my hair every day. What shampoo should I use?
A: It's important to choose a gentle shampoo and generally sulphate free formulations are the best. Collinge &Co Gentle shampoo is ideal as it is formulated with coconut oil and fruit sugar derivatives which gently cleanse the hair without opening the cuticles. It also contains natural ingredients to hydrate and strengthen the hair, as well as Vitamin E, an anti-oxidant which helps promote a healthy scalp and follicles.
Q: After swimming my hair looks dull even after shampooing – what can I do?
A: You will need a stronger shampoo called clarifying or deep cleansing shampoo to remove the chlorine or salt on the days that you swim. You should also choose a moisturising conditioner or mask to restore the shine. Collinge & Co Deep Cleansing Shampoo contains sulphates to deep clean the hair, B5 to aid moisture retention, suppleness and sheen, ginger root for a healthy scalp, Lime fruit extract and basil oil to help regulate the scalps oil production.
Q: What are the benefits of sulphate free shampoo?
Sulphates are a type of detergent that are used in a range of products from household through to soaps and shampoos. They are very effective cleansers, but at the same time they can be very drying to hair and skin.
Sulphate free shampoos tend to use gentler surfactants to remove grease and dirt from the surface of your hair and scalp. The Collinge & Co Sulfate Free shampoos contain ingredients derived from coconut oils and sugars that are are effective cleansers without stripping the hair of oils.
One of the most effective ways of hair maintaining a stable moisture balance is to keep the cuticle closed. Our sulphate free shampoos do not open the cuticle keeping moisture and hair colour locked within the hair shaft.
Q: I colour my hair. What is the best shampoo to use to stop fading?
A: It is essential that you use a sulphate free shampoo such as Collinge & Co Gentle Shampoo or Moisturising shampoo. In this case it is the gentle cleansing agents which are important as well as Mandarin Orange peel oil antioxidant which helps preserve condition and colour. It also contains UV filters.
Q: I regularly cycle to work in the city and find that my blonde highlights start to look a bit yellowy after time. Any suggestions?
A: Collinge & Co Purple Shampoo would be ideal to neutralise the brassy tones. Leave on between 3-5 minutes depending on the result you require. This shampoo is also sulphate free to protect the colour and contains UV filters to help protect against the damaging rays of the sun.
Q: What is clarifying shampoo?
A: Clarifying shampoo is ideal for hair that has a build up of product, oil or chemicals, such as chlorine. It should be used when you need to really detoxify the hair, such as after swimming. Typically, clarifying shampoo contains sulphates to open the cuticle to remove particles from under the hair surface. Depending on your hair type, you may what to alternate using Deep Cleansing Shampoo, between using a more gentle or moisturising shampoo.
Q: Is dry shampoo bad for your hair?
A: Dry Shampoo isn't damaging to your hair in any way. It simply absorbs the surface oil on your hair to stop it looking greasy. It is great to use if you are short of time. However it should only be used occasionally and not as a substitute for traditional shampooing.
Q: Which is the best shampoo for curly hair?
Curly hair is prone to being dry and needs to be kept well hydrated. Sulphate free shampoo is the best type of shampoo to cleanse curls as it will not open the cuticle, therefore helping maintain the hair's natural curly hydration pattern, and helps to retain natural oils. Collinge & Co Moisturising Shampoo is ideal to keep curls healthy and supple.
If you use oils and products to help define curls it is important to cleanse your hair and scalp to avoid product build.
Q: What is the best way to shampoo your hair.
A: It important to make sure that you completely saturate the hair with water before you apply shampoo. The amount you use will depend on length and thickness but you you should use enough shampoo to achieve a lather - you can always add a bit more. You should start from the roots with medium, firm pressure using the pads of your fingers in circular movements. You should never 'scrub' the scalp. Then work the shampoo through to the ends. After 2-3 minutes rinse the hair from root to tips. You generally need less shampoo for the second wash and the pressure could be a little lighter.
Q: Is it bad to wash your hair everyday?
A: No. If you use a good quality, gentle shampoo, it is not damaging to shampoo your hair everyday.
Q: How often should I wash my hair?
A: It depends on your hair type and lifestyle. Fine hair or greasy hair might require daily washing. However, washing hair too frequently can lead to stripping the hair and scalp of their natural oils, leading to the scalp over producing sebum, which in some cases can we the root cause of greasy hair.
Dry or coarse hair may require washing less frequently, but it is still important to wash to remove grime and toxins from the hair and to cleanse the scalp. Blocked pores and follicles can cause flakiness, itching, sensitivity and in extreme cases dandruff and hair loss. We recommend washing hair at least every 3-4 days.
For most people washing hair every other day is suitable for removing dirt and grease adequately without unbalancing the scalps production of natural oils.
Related Articles
Our Collinge & Co x Malmaison Makeover Winner

Last week, we had the pleasure of hosting Natalie, the lucky winner of our makeover and Malmaison stay giveaway, at our Castle Street salon. Natalie visited us for a transformative experience, entrusting Jess with her hair colour and style, and Liz with... Read More

Expert tips and tricks for this winter season

This party season Helen Seaton, Style Director in our Castle Street salon, gives her expert tips and tricks to style out December and Christmas

Q: How can I achieve a quick colour win for the party season?

The party season... Read More