Holiday Hair Updo Tips
22.06.2023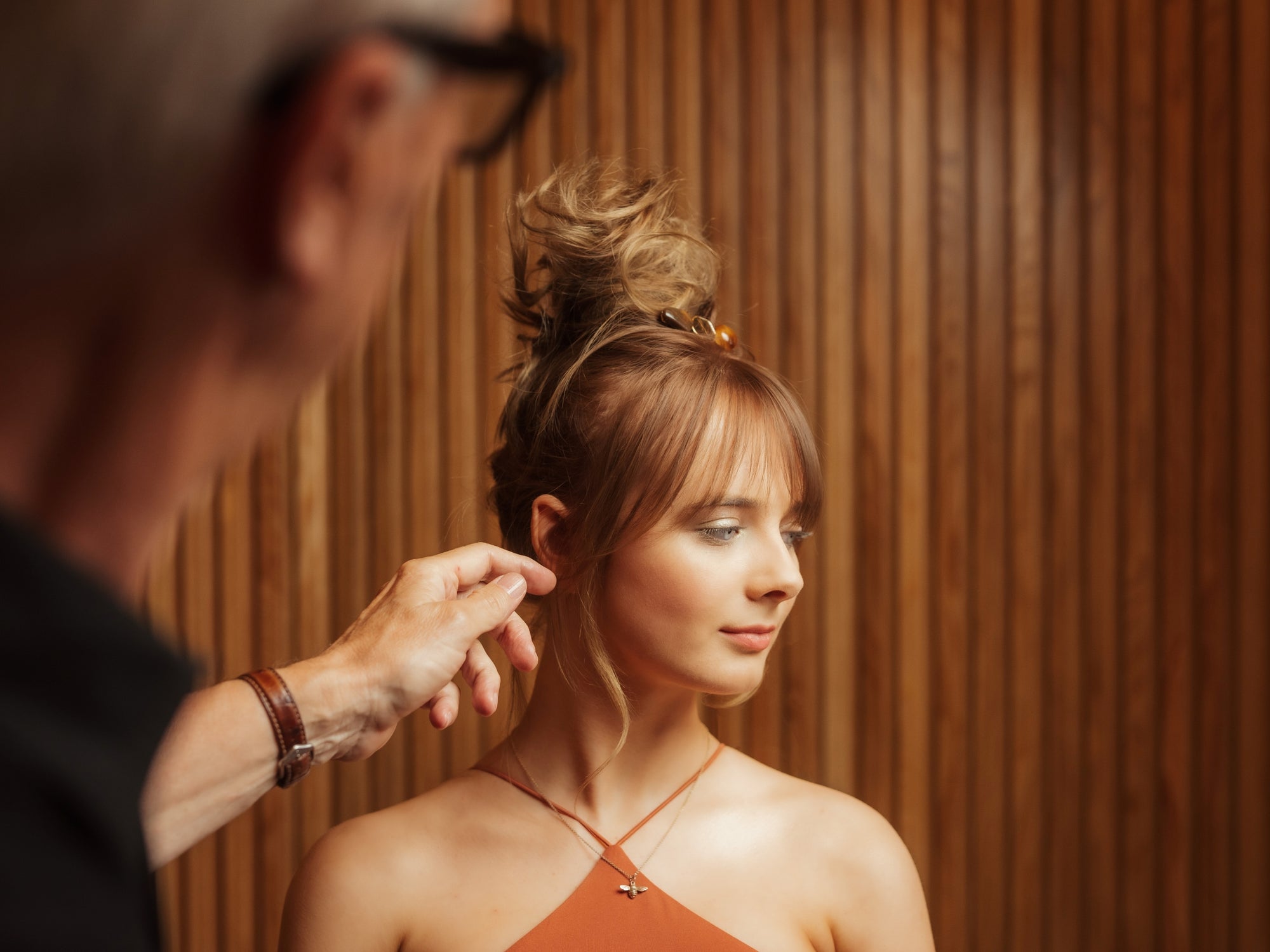 Long hair is having a style renaissance in terms of styling and finish. The hot new looks for long hair this summer include sculptural braids and twisted chignons. It is all about experimentation and trying something different. These looks are perfect for holiday hair as they don't require complicated drying techniques.
Instead, with good preparation, styling products and a professional hairbrush you can achieve stunning styles.
Here is a simple way to create an impactful style which is perfect for holidays as no blow dry is needed. It can be done on dry or slightly damp/towel dried hair. A little conditioner can be brushed through to achieve a really sleek, shiny finish.
Step-by-step: Sculpted top knot 
Step One: Brush the hair into a high ponytail and tie with elastic.
Step two: Holding the ends, in one circular movement, twirl the hair into a topknot and secure with a grip.
Step Three: Use hairspray to smooth down any flyaways.
Step four: The result is a beautiful, sculpted, twisted chignon.
Five Quick Holiday Hair Tips
For coloured hair, avoid colour fade by using hair products that contain UV protection or wear a hat. Hair products with UV filters within our range include: Gentle Shampoo, Moisturising Shampoo, Lightweight Conditioner, Moisturising Conditioner, Hair Treat, Blow Dry Lotion and Firm Hold Hairspray.
Don't swim without first wetting your hair and remember to rinse immediately afterwards, too.

Trim hair at the start of the summer. It's a fact that hair grows quicker in the summer months, so it's a good time to do this. The more split ends your hair has, the more your hair is vulnerable to the drying effects of UV, heat and salt water.

UV and heat removing moisture from hair and cause the cuticles to be raised. Replenish moisture with a hair  mask to revive shine and vitality. Our Hair Treat provides moisture, whilst nourishing the hair with natural oils, and smooths the cuticle using plant-based proteins. 
Avoid blow drying, straightening or tonging your hair. A top tip for a beautiful-looking hairstyle – without using a heat appliance – is to plait your hair to create waves. Firstly, apply a leave-in conditioner or brush a very small amount of conditioner throughout towel-dried hair. Let it dry naturally in the warmth of the evening sun and then plait the hair, taking 6 to 8 sections. Continue to let the warmth of day dry the hair, for beautiful, tousled waves.
Related Articles
Meet the Collinge & Co Graduates Team

Step into the exciting world of our Graduates salon. With a new generation of Graduate Stylists, newly qualified hairdressers and experienced team, our Bold Street location is brimming with energy and passion. You'll be welcomed by a mix of professionalism and... Read More

Unleashing Boho Chic: Festival Hair Trends in 2023

Festival Hair Trends in 2023

Festivals are all about letting loose, having fun, and expressing yourself. From clothing to makeup, everything is about bringing out the inner fashionista in you. But one aspect that has always been a crowd favourite... Read More

Low Chignon Bridal Hair Inspiration

A low chignon. An exquisitely crafted and detail soft bun that sits softly into the nape of the neck. Twisted ponytails are skilfully arranged to form a bun, creating extra volume. Adorned with gypsophila to finish.

Read More