Top 50 SME Employer
30.06.2022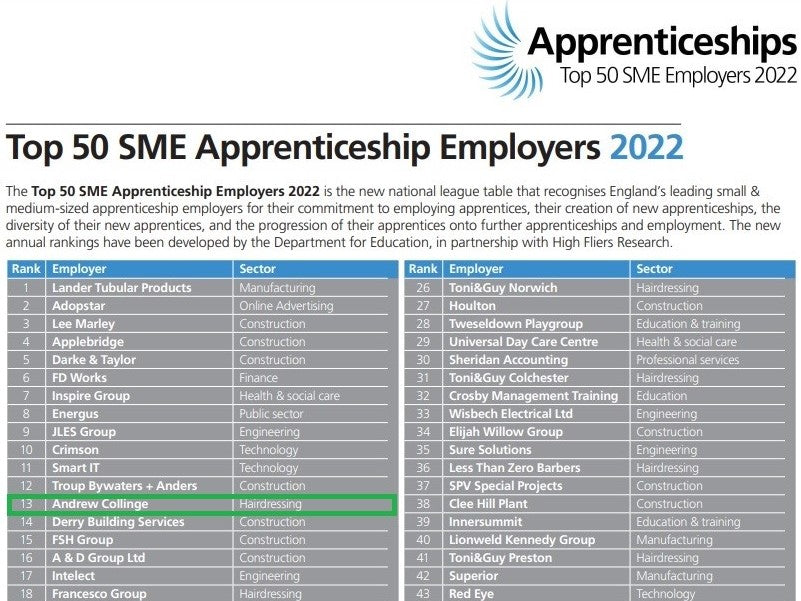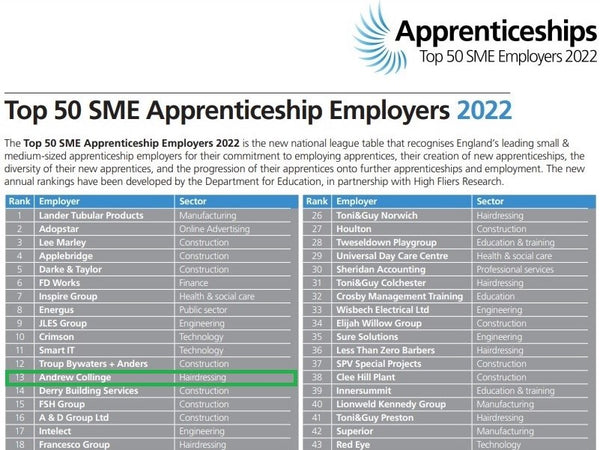 We are proud to be ranked 13th in the Top 50 SME Apprentice Employers 2022 and the highest placed hairdressing employer in the UK.
For over 80 years Collinge Hairdressing has invested in the training and development of young people who have been the foundation of our company. Today 90% of hairdressers across our salons started with us as an apprentice.
Photographed are the current team of Andrew Collinge Graduate Stylists who having successfully completed their Hair Professional qualification are now working towards the Advanced and Creative Standard.
Well done to all our apprentices, past and present and thank you to the Training Team and to all those who for your guidance and dedication towards their futures.
Related Articles
Our Collinge & Co x Malmaison Makeover Winner

Last week, we had the pleasure of hosting Natalie, the lucky winner of our makeover and Malmaison stay giveaway, at our Castle Street salon. Natalie visited us for a transformative experience, entrusting Jess with her hair colour and style, and Liz with... Read More

Expert tips and tricks for this winter season

This party season Helen Seaton, Style Director in our Castle Street salon, gives her expert tips and tricks to style out December and Christmas

Q: How can I achieve a quick colour win for the party season?

The party season... Read More