Top Tips for Beautiful Bridal Hair
13.07.2023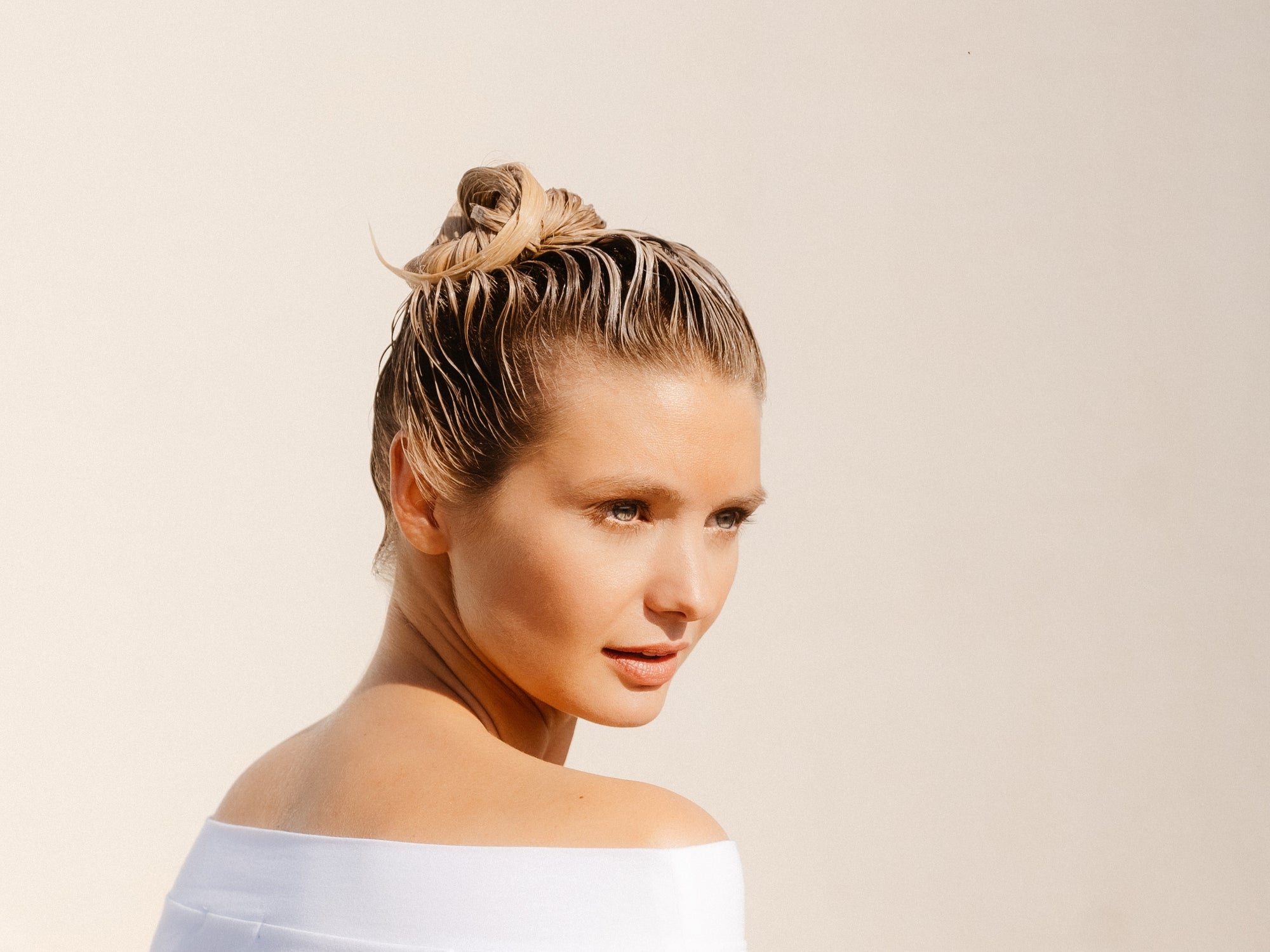 You aspire for healthy, shiny lustrous hair on your wedding day, so follow our top tips to get your hair into fabulous condition.
Our motto is to be kind your hair which includes a list of good things to do but also the things you should avoid.
1
In order to achieve the best condition make sure that you choose products that are right for your hair. This might mean gentle products for hair that is delicate or in poor condition, sulphate free shampoo for hair that is coloured or a good quality hair mask for hair that is dry and screaming for moisture. Styling products should be carefully chosen too so that they offer protection from heat and UV.
2
Our brilliant Hair Treat is a moisture rich mask that you should use every 1 to 2 weeks if your hair needs colour protection or moisture and for hair that tangles easily. It helps to keep your hair healthy, manageable and shiny protecting against breakage and split ends as well as being good for your scalp. It is the luxurious natural ingredients that make this such an effective treatment; such as Jojoba and Sunflower seed oils for moisture and softening, Soy and wheat proteins to strengthen, add shine and moisturise, Clementina and Lime fruit to condition Vitamin E Antioxidant and Ginger root oil for a healthy scalp and follicles and Basil oil to regulate the scalps oil production.
3
A lot of brides decide to grow their hair to give themselves more style options on the day. But even if length is your goal it's important to have regular trims so that you remove hair that is a little more damaged or split at the ends. Ultimately this will cause your hair to look thicker and healthier and prevent any breakage.
4
Getting married means a lot of planning and rushing around so make sure you don't neglect your diet. A healthy balanced diet will be good for your hair, skin and nails as well as keeping your energy levels up. Foods and vitamins specifically good for hair and scalp are: protein, iron, complex carbohydrates, omega-3 fats, vitamins B, C & E, as well as plenty of water.
5
Moving on to the things you should avoid, we would say the worst culprits for damaging and drying out hair are excessive use of straighteners, tongs and blow drying. Give your hair a break from these, avoid exposure to the elements and consider wearing a hat in weather that is extreme.
6
If you do regularly blow dry your hair follow our professional tips to enhance shine and avoid damaging the hair. Use a product with heat protection such as Collinge & Co Blow Dry Lotion, always use a nozzle attachment and direct the heat parallel to the hair shaft and make sure that you are not touching or too close to the hair. This will encourage the cuticles to lie flat which keeps your hair shiny, healthy and smooth.
Related Articles
Meet the Collinge & Co Graduates Team

Step into the exciting world of our Graduates salon. With a new generation of Graduate Stylists, newly qualified hairdressers and experienced team, our Bold Street location is brimming with energy and passion. You'll be welcomed by a mix of professionalism and... Read More

Unleashing Boho Chic: Festival Hair Trends in 2023

Festival Hair Trends in 2023

Festivals are all about letting loose, having fun, and expressing yourself. From clothing to makeup, everything is about bringing out the inner fashionista in you. But one aspect that has always been a crowd favourite... Read More

Low Chignon Bridal Hair Inspiration

A low chignon. An exquisitely crafted and detail soft bun that sits softly into the nape of the neck. Twisted ponytails are skilfully arranged to form a bun, creating extra volume. Adorned with gypsophila to finish.

Read More